Shopping Cart
Your Cart is Empty
There was an error with PayPal
Click here to try again
Thank you for your business!
You should be receiving an order confirmation from Paypal shortly.
Exit Shopping Cart
Lesley Youngblood
Granola girl, Earth Mama, Crazy Cat Lady, Dragon Whisperer
I skipped yoga today, I think just because I said yesterday I could start every morning with it. Just to be ornery. That's how I roll. But I do substitute an extra tapping in its time slot. Yesterday's walk reminded me of how challenging my allergies get during this time of year. It's an odd catch-22 to be so thrilled to see spring color arrive, all the while knowing the price to be paid for it. So, I do a tapping on allergies – yep, there's a tapping for that.
I also listen to that ultra peppy 15 minute recharge again today. I'm feeling the need to be productive. Part of that motivation is a team challenge I've volunteered to be a part of for Arbonne. Me and my two teammates are supposed to book as many one-on-one meetings or group parties as possible in the next twelve hours. Our Regional VP has thrown down the gauntlet, so I'm in.
A few hours later, with zero progress to report, I make a little brunch for the hubby and I: cream of wheat with flax seed. It's a bowl of warm and savory to boost us both, and it's apparently kitty approved.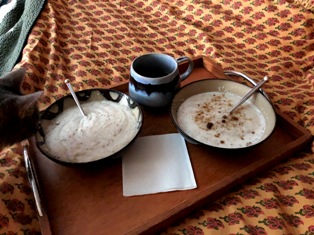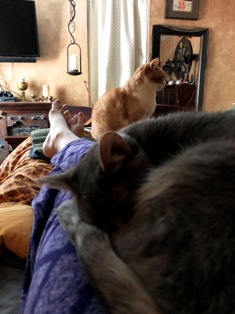 Okay, back to work.
The afternoon is bright and beautiful, so I take my phone work for a little stroll in the back yard for a change of pace. My hubby is quite a deft hand with plants, particularly roses, and his handiwork is on full display in our back yard. I soak up the sun on our terrace for a bit, then get discouraged and come back inside.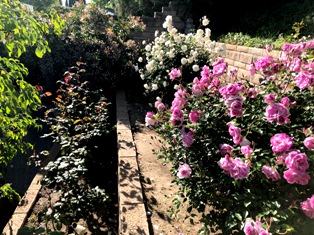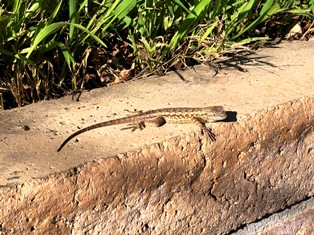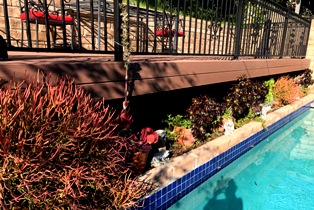 At 7pm, with only an hour of work time left in the challenge and absolutely nothing to show for our entire team – not a single booking between the three of us – I throw in the towel and opt to work out my frustrations with a new exercise program.
Megastar Chris Hemsworth (aka Thor) has a program called Centr – it includes healthy recipes, meditations, and workouts daily. The guy has a 6 week free intro to the program during this lockdown period, so the hubby and I thought we'd test the waters. Only we haven't yet, and our first week of the six is up. Being the bargain shopper I am, I just can't let another day go by without trying it – gotta feel like I'm getting my money's worth, right? Umm, well, yeah, it's free, but you know what I mean.
At first I'm not thrilled. The meditation is bad. Period. Cheesy voice that is not conducive to relaxing at all. And, when I click on coached workout, the warm-up starts without any guidance whatsoever. I close it and restart – maybe I hit the wrong button? Nope. That's just the way this is set up, the warm-up is on your own, and the coach comes in for the ass-kicker…I mean workout.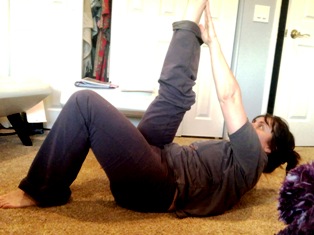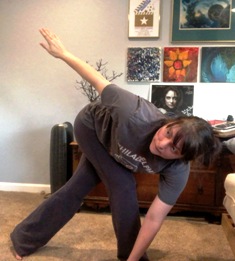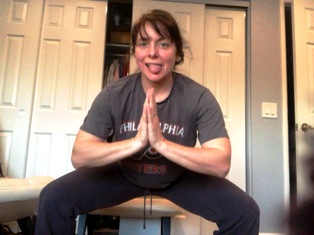 Let me just say here – if I thought I was in decent shape, I've been schooled. The HIIT workout has a combo of cardio (yep, those damned burpees again) and core work in each set, and I used muscles tonight that I obviously have not in my other workouts (Obviously. Really obviously). I set my membership up on the intermediate level, and on some of the exercises I was absolutely okay with that. Others, not so much. But there is no way the hubs would be able to do this level consistently, so I'll drop it back to beginner from here on out. No need to kill us all while we're in quarantine.
Rather than following through with the Centr cool down – unguided again, I'm sure - I choose to do some yoga with the hubby instead. It's great stretching and cool down material anyway, and he can join me so it's more fun that way.
By the time we finish, I can breathe and walk again, and I'm famished. We make a tilapia dish with green beans and a homemade pesto, then settle in for more futball. Two episodes is enough – what I really want is a long hot shower and some sleep.
The Daily Deets:
Exercise – Yoga with Adrienne (https://www.youtube.com/watch?v=oBu-pQG6sTY), Walk in the back yard, HIIT workout (https://centr.com/join-us)
Meditation – 15 Minute Recharge (https://www.brainhacker.net), Create a Great Day and Heal Your Body: Allergies (https://www.thetappingsolution.com),
Healthy meal – Chocolate covered cherry shake. Grilled tilapia with green beans and pesto.
Creative – Vision Board redux syncing – halfway there!
Gratitudes:
1 – I am grateful for lizards who enjoy the sunshine as much as I do
2 – I am grateful for support from my fellow Arbonne consultants, even in the face of disappointment.
3 – I am grateful for a new workout to kick my butt
4 – I am grateful for new shake recipes to mix things up a bit.
5 – I am grateful for every single public health worker on the planet.
Categories: None
/