Shopping Cart
Your Cart is Empty
There was an error with PayPal
Click here to try again
Thank you for your business!
You should be receiving an order confirmation from Paypal shortly.
Exit Shopping Cart
Lesley Youngblood
Granola girl, Earth Mama, Crazy Cat Lady, Dragon Whisperer
And so Easter Morning dawns. What an odd Easter this is…no family or friends over…no giant ham or turkey to eat. No baskets of chocolaty goodness. Not even a colored egg. Weird.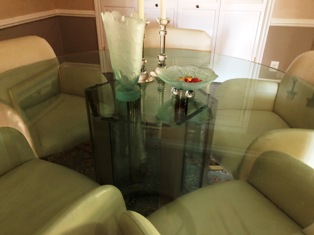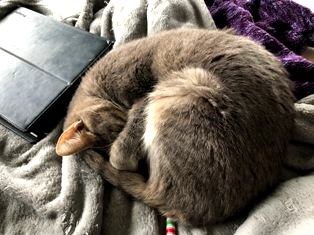 And I feel the strangeness echoing inside me, enough so that I start off with a meditation before I even grab my tea and fizzy stick. I start with Loving Kindness, then a tapping on You are Enough quickly after, because I am acutely aware of the need to DO something right now. I feel like I'm not doing enough to help out in this situation, and it's a hard pill to swallow, particularly on this day of giving, that the most loving and useful act I can engage in is staying home.
I listen in on a bit of Natalie Ledwell's live broadcast on Facebook, and finally grab my tea. I feel a little more grounded, and I know yoga will take me the rest of the way. And a quick look outside is enough te remind me that Mother Nature has already provided quite a basket of spectacular colors.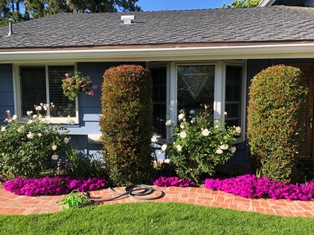 And just as I finish the yoga video, we get a message from our grocery store saying our order will not be delivered today, but has instead been cancelled. I'm really angry. We've waited a week for these groceries, only to be told the store is cancelling because they don't have anyone who can do the shopping and delivery. They're overwhelmed, I get it, but why offer a service you can't fulfill? Furthermore, now we will have to go to the market, on Easter. So much for being a good citizen, huh?
I choke down a mocha shake, don my shopping apparel, and print out our grocery list. We should have it memorized by now – we've looked at it so many times in the last week trying to place the order anywhere that could deliver it. I think, all total, I've typed these items in at least five different times.
Ah, grocery shopping, one of the true joys of lockdown. You can feel the anxiety of folks as they walk around the aisle, eyeing anyone within a carts' distance. Folks get downright territorial about aisles too. I walk around the corner of the coffee aisle, and suddenly find myself transported to the OK Corral. Where's Doc Holiday when I need that decaf off the shelf? Basically, folks are well spread out and well behaved, but it is far from a pleasant experience.
Or maybe that's just me. I'm miffed about the delivery failure, miffed that this trip is costing me every minute of free time I would have before class tonight, miffed that we're potentially endangering mom-in-law by bringing germs into the house, and miffed that I can't even be eco-friendly and use my reusable bags.
When we get home, the hubby and I employ our new decontamination system, and get things cleaned and cleared away within 45 minutes. Not bad, I guess, and I do sneak in a turkey and brie sandwich before I have to gather myself for the Crash Acting broadcast. I had hoped to do some Fitzmaurice work before we started, an attempt to clear my head and open up to creativity, but there just wasn't time.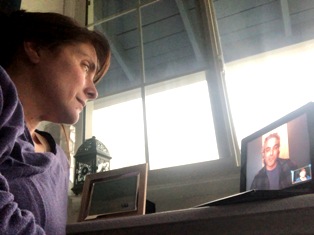 Thankfully, class almost always starts with a mini-version of the body scan and breathing exercises, so I'm not entirely adrift for the four hour class. But, I can definitely tell something is off tonight. The lecture portion feels long. The assignment for next week – reading Bridesmaids – annoys me. The critiques of the monologues feel rushed. I guess I just never got my feet firmly replanted today, and that's carrying into the evening.
The Daily Deets:
Exercise – Yoga with Adrienne (https://www.youtube.com/watch?v=oBu-pQG6sTY)
Meditation – Loving Kindness (https://www.oakmeditation.com) You Are Enough (https://www.thetappingsolution.com)
Healthy meal – Mocha shake. Turkey and Brie pita with pickles. Carrots and Pine Nut Hummus.
Creative – Class (https://www.crashacting.com)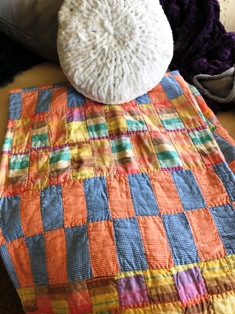 Gratitudes:
1 – I am grateful for this entire journey, which is almost at its conclusion
2 – I am grateful for the employees at the grocery store who work in a hazard zone so we can eat dinner tonight.
3 – I am grateful for the mute button on Zoom so no one can hear me crunching these carrots like Bugs Bunny.
4 – I am grateful for food on the table and in the fridge and in the pantry…enough to last us a couple weeks without seeing the inside of a store again.
5 – I am grateful my futon, which holds me comfortably, and my great grandma's quilt keeping me all warm and cozy.
I'll hold off on the weekly stats, because WE ONLY HAVE THREE MORE DAYS! I figure a grand tally makes more sense than a Sunday summary this week.
I'm almost sad to see it end. But I'm excited to see what may come next. Honestly, I have no idea at the moment, so I could use your help!
Leave a comment to let me know what you think should be next.
Categories: None
/