Shopping Cart
Your Cart is Empty
There was an error with PayPal
Click here to try again
Thank you for your business!
You should be receiving an order confirmation from Paypal shortly.
Exit Shopping Cart
Lesley Youngblood
Granola girl, Earth Mama, Crazy Cat Lady, Dragon Whisperer
Good morning, rain. Good morning house with the creaky 6th stair. Good morning tea pot that steam burns me every morning. Good morning, kitties, and blanket, and space heater. Good morning, Friday.
I'm up early today to catch up the blog and take my online class I missed yesterday. Only, the class won't let me back in for some reason, and I have to officially reschedule for Monday morning. Guess I'll be pulling a double there. But that leaves me extra time to focus on meditation and yoga while the house is still quiet. This soothing yoga in the mornings is such a blissful start to my day. You know by now that I have a love-hate relationship with routine, sameness of days that both bolsters and perturbs me. The thought of doing the same thing at the same time and in the same way every day just makes me feel heavy and caged. But, I believe I can live with starting most days with this lovely, slow yoga.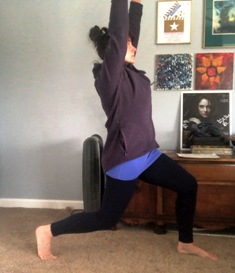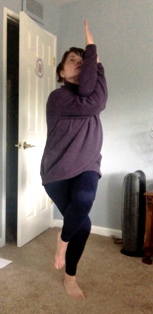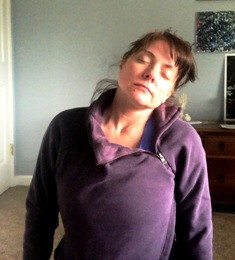 Now I get in a little bit of kitty snuggle time. Also an essential part of every day that I have no qualms with maintaining. Sybilla has become my ubiquitous shadow during these quarantine days. She spends so much time curled up on my lap or under my feet, I'm surprised her legs still work. Even Flynn has decided that snuggling with humans ain't so bad. He has taken up residence on the hubby's lap every night during our post-dinner tv watching. This morning, he's curled up at my feet – well, he settled there after a 5-minute bap-fest with 'Billa. She got my lap out of the bargain.
The day isn't really anything particularly unique or exciting – there's a pattern to this quarantine life with very few interesting blips on the radar. The hubby makes a mercy run to take a spare mask to a friend who must go to the office right now. I help mom roundup a few more documents for the house refi. I sneak in a few minutes of reading, and even a few work emails and a dragon game on my phone.
By the late afternoon, the sun comes out just long enough for a quick walk. The fresh air is phenomenal, even though both hubby and I are suffering with seasonal allergies right now. And it's no wonder really. One step out the door explains why – everything is exploding in color. The entire neighborhood is alive with spring, and even though we cut our walk short, it was worth it to see the world so alive in the midst of this chaos.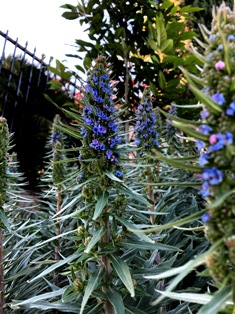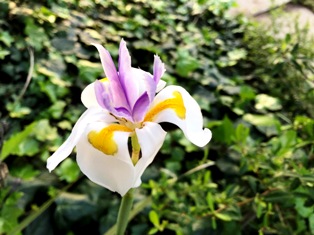 As the rain begins to fall again, the hubby and I turn out attention to that cornice board project we've been hoping to get to. No time like the present, so we pull out the materials, the plywood, and begin to plot and design. Mind you, it's been more than a year since we purchase the ribbons and trim and material and plywood, so it takes a few minutes to recall what our plan was for each piece. I'm not even sure we did recall, but we certainly arrived at a design that we both loved.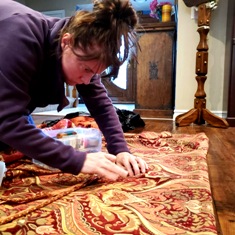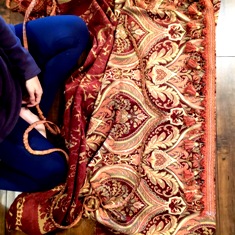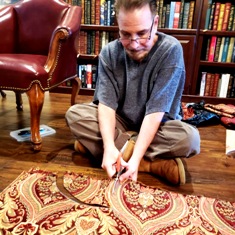 Measuring precisely, we cut, and I pin, and the next step is completed. What remains is to sew the braided trim into the edge – which will likely be by hand unless we buy a new sewing machine. My old heirloom Singer (my grandmother's from the 1960's) has seen the last of its functioning days, safely functioning at least, and is getting retired. There's a constant smell of bak-o-lite burning every time we plug it in, and you have to hold the plug with one hand and guide the material with the other or it doesn't run consistently. Oh, and we lost all of the foot attachments in the last move, so sewing upholstery material is definitely a challenge. I'm not that great a seamstress to begin with – don't give me extra challenges!
Our project milestone hit, it's time to put materials away once again and focus on dinner and some family time. We have one of our favorite rainy day soups tonight - chicken and sweet potato soup. And we find a new show to watch that none of us thought would be good, but all of us find intriguing. It's called The English Game, a period story about futball (that's soccer if you're from the South like me). Not a topic I would have thought interesting, but turns out it is.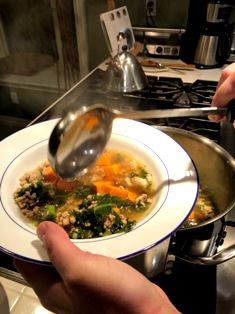 Well, that's all the news from Lake Wobegone.
The Daily Deets:
Exercise – Yoga with Adrienne (https://www.youtube.com/watch?v=oBu-pQG6sTY), short walk during a break in the rain
Meditation – Awake breathing exercise (https://www.oakmeditation.com), Love, Peace, and Light tapping (https://www.thetappingsolution.com),
Healthy meal – pumpkin pie shake. Chicken and sweet potato soup.
Creative – cornice board project, a little reading.
Gratitudes:
1 – I am grateful for books – actually paper and spine books – to hold in my hand and read.
2 – I am grateful for allergy medicine to get us through spring.
3 – I am grateful for Flynn's bouts of snuggling.
4 – I am grateful for a creative, designer of a hubby who can be a partner on projects.
5 – I am grateful that we've all made it through another week of quarantine alive.
Categories: None
/