Shopping Cart
Your Cart is Empty
There was an error with PayPal
Click here to try again
Thank you for your business!
You should be receiving an order confirmation from Paypal shortly.
Exit Shopping Cart
Lesley Youngblood
Granola girl, Earth Mama, Crazy Cat Lady, Dragon Whisperer
I'm an introvert. It's a fact. I often call myself a highly functioning introvert, and in the entertainment industry that's absolutely necessary. But, if I'm really being honest, I'm probably better suited to be a writer or a painter – someone like Van Gogh who disappears into the landscape for months, soaking up the solitude and storing up the energy and fortitude to face people when the time comes to share their completed art. I think I might even make a good Frankenstein's monster –lurking in the wings of the theatre and trying oh-so-diligently not to be noticed.
Then again, I love the stage and the spotlight and the feedback of an audience perhaps more than I love cat snuggles. Perhaps. Maybe. Ok, really it's more of a tie, but the point is that I really love performing, and you can't have a performance without people. Every once in a while, I have a day like today - a day that reminds me how much people matter to me, a day when talking with folks energizes me and makes me smile.
It starts with a chat with Julia, my Arbonne sponsor. Our weekly meetings are fun as well as motivating. We talk about what's going on, set goals and make plans for the week, and just chat about the weirdness of this current environment. She's an animated talker, and I'm immediately drawn in by her energy, which is good early in the morning. The second call of the day is with my buddy and fellow D&D party member, Gabe. He's creative, and funny, and a good listener as well as a good story teller. We don't have an agenda today, just a "coffee" chat, and that's perfect. Next is some texting with my brother in Georgia. We're a close family, and it's always wonderful to hear from him or his wife or their cats. Today, their kitty Tuxie has taken up residence on his shoulder and wonders why he can't just work that way all day.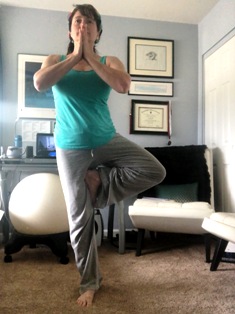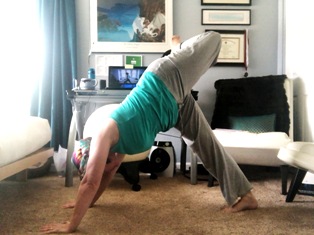 Between the calls and texts, I sneak in my yoga before the hubby and I sit down to schedule a few tasks out. We want to take advantage of this "down time" to check a few DIY projects off the list, but for me, I need the structure of a schedule. Yes, even now. So we pull out the calendars and begin carving out time.
First on the list is some special housecleaning. With all the rain we've been having, I'm overdue for a thorough cleaning of the cat run outside and the litter boxes. We have a short break in the drizzle, and this one gets tackled today. Everything gets emptied, scrubbed, swept, covered, or refilled. The hubby also has materials for a new V-Flat (a big white and black foam board screen that photographers use to bounce light) and wants to get it assembled. That will have to wait for a sunnier day so the tape doesn't bubble. We also have a cool cornice board project for our bathroom that has been on the list for a year now. We got the first stage of the project – a heavy brocade curtain – finished up in November, and step two was cutting the plywood into the shape we liked for the cornice board. All that remains is to sew the material that will cover those boards, stuff it with batting, and fasten it to the wall and ceiling. It gets added to the weekend. And, of course, there is the final bit of tax information to be gathered and sent so we can file our 2019 taxes and be done with it. That gets penciled in for early next week.
After the schedule is set and my calls are wrapped up, I take a while to work on the photos for my vision board redux. I'm basically going through all of my photos and pulling stuff that makes me feel positive and proud and hopeful, using them as living examples of the good things I want to increase in my visioning. Once I have them all assembled, then I'll have the more difficult task of sorting them and syncing them with the music and voice track. I figure the whole project will take me another week to finish, but it'll be worth it when it's done.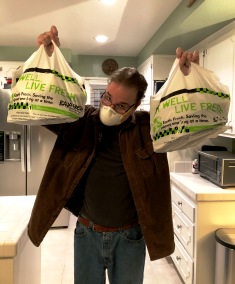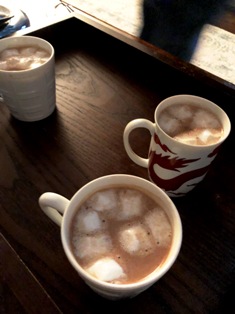 In the evening, we've eaten all of our Hello Fresh meals and no one really feels like cooking anyway, so the hubby and I drive to our local Baja Fresh to pick up dinner. Who knew picking up dinner would be such an undertaking? Gloves, masks, don't touch anything, sanitizer as soon as you get back in the car, only one person touching the bags so to isolate any possibility of germs being transmitted, bleach spraying the counter where the bag sat. My goodness, the lengths we have to go to. Worth it, but it certainly makes one think twice about ordering in…might be faster just to cook.
Still, it's hard to beat warm churros to accompany hubby's famous hot chocolate. I think we may survive this after all.
The Daily Deets:
Exercise – Yoga with Adrienne (https://www.youtube.com/watch?v=oBu-pQG6sTY),
Meditation – Loving Kindness meditation (https://www.oakmeditation.com), Releasing anxiety around being stuck at home (https://www.thetappingsolution.com)
Healthy Meal – Chocolate and banana shake for brunch. A chaga fudge snack bar. Does guacamole count as healthy??
Creative – Vision Board photos and sync
Gratitudes:
1 – I am grateful for an empty restaurant that is still open for business
2 – I am grateful for not having to choose between cat snuggles and performing.
3 – I am grateful for friends and family to chat with today.
4 – I am grateful for hubby's hot chocolate talents
5 – I am grateful for so many amazing memories to choose from for my vision board. What a wonderful reminder of how much I have to be grateful for.
Categories: None
/