Shopping Cart
Your Cart is Empty
There was an error with PayPal
Click here to try again
Thank you for your business!
You should be receiving an order confirmation from Paypal shortly.
Exit Shopping Cart
Lesley Youngblood
Granola girl, Earth Mama, Crazy Cat Lady, Dragon Whisperer
It's raining. And I love it. Rain just feels clean, like it's clearing away stale energy and germs and complacency, and making a clean slate from which to create new patterns and new designs.
I have my fourth class today in the digital marketing course. And I finally figure out where and how to access the assignments for the class. Today is about building a social media strategy, and it really gets my brain working. I'm jotting down ideas a good hour after the class is over.
But sitting for that long, even on my yoga ball chair, makes me tired, so I switch tracks and hit the yoga mat. Today is a long version of a sun salutation – the foundation for most of yoga. It's simple moves, but I love exploring them more deeply by doing them slowly instead of flowing through them as usual. See what I mean about the rain – new perspectives.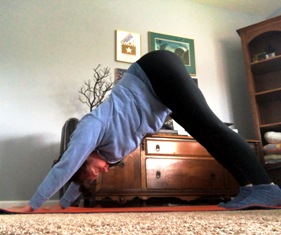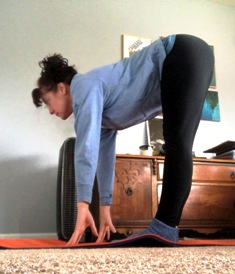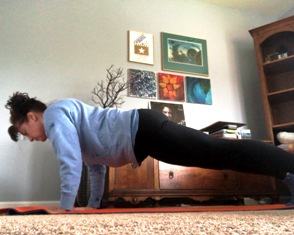 I also opt for a different meditation for today, finding a mind movie about vital health. It seems appropriate right now. And I sneak in my vision board while I'm at the computer because I'm hoping to stay away from it the rest of the day.
Instead, I switch to the hubby's computer for a bit. We're crafting a grocery list for delivery, but knowing how long delivery takes these days, we're planning for two weeks. We have our usual meals coming from Hello Fresh, but we still have to supplement several dinners, not to mention lunches. The shakes really help cut down on the expense of groceries - I have them to fall back on for breakfast and lunch, and the hubs will partake of those too, but we still need other food. Our next door neighbors turned us onto a local grocer that delivers through Instacart, as long as you're willing to keep hitting the refresh button until a delivery can be scheduled. Which can take days. That's why we're planning now. We put together a dinner menu, load up the cart, get mom-in-law's specific items added in, and begin the refresh process.
In the meantime, I'm cold and I want to switch gears, so I indulge in a warm bubble bath. Candles, rose petals, a rose scented fizzy ball - I even made myself a rose champagne mocktail to drink while I lounged and listened to an audiobook. It's spectacular, and feels utterly decadent. I should do this more often.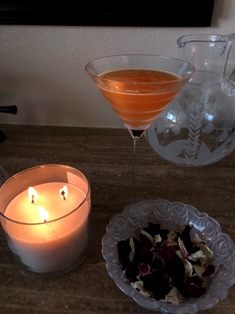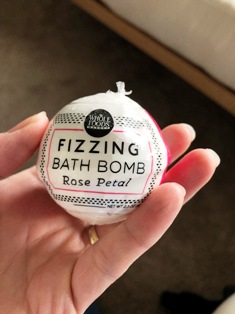 My whole vibe shifts, my spirit dilates, and I'm ready for some art now. I bring the audiobook with me, and set up shop on the futon. My furry grey shadow comes with me and keeps me company while I create for the next hour. It's funny how art works – I often have moments of fear when I'm working on a piece. Fear of messing it up with the wrong color or the wrong line. Fear that I'm the only person who will like it. Fear that I'll never finish it because I'll get so caught up in the minutiae that I can't see when it is complete. It gets worse when I really like how the piece is going. So, the audiobook really helps me focus my mind elsewhere and let the creativity flow uncensored. I know several musicians who do this when they play guitar – telling themselves a story instead of focusing on getting every chord exactly right, and paralyzing the flow of creativity in the process. It also gives me some sense of time, because I will get completely lost in the work and not realize hours have passed. The chapters of the audiobook help monitor that so I don't have to worry.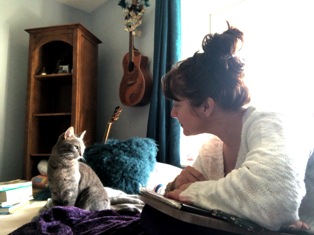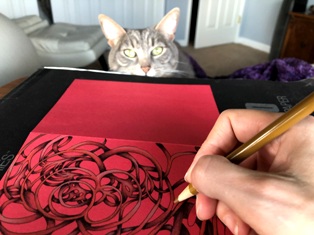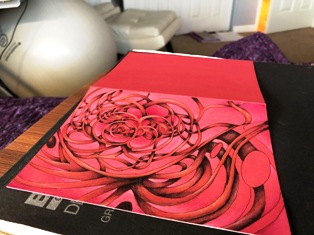 I work all the way up until dinner, so I'm ready for a little creative cooking. The hubby and I make a pan seared barramundi dish with roasted sweet potatoes and poblanos and a homemade salse verda that is just plain delicious. We load up the trays and head to the kitchen for a little family time. I forget who recommended The Outsider to me, but I need to thank them. We were all completely engrossed and watched until well after 11pm. The hubs and mom-in-law wanted one more episode, but the show is creepy enough that I needed a meditation to clear my head before sleep, so I vetoed it until tomorrow.
Trash cans are broughtback in, face is washed, teeth are brushed, Loving Kindness meditation is done. One more time to hit refresh on the grocery order – nope, still nothing.
See ya tomorrow, folks.
The Daily Deets:
Exercise – Yoga with Adrienne (https://www.youtube.com/watch?v=oBu-pQG6sTY), HIIT workout from Centr (https://centr.com/join-us)
Meditation – Vibrant Health (https://www.mindmovies.com), Loving Kindness meditation (https://www.oakmeditation.com)
Healthy Meal – Quinoa, Kale, and Lentil Soup for lunch. Pan seared barramundi with sweet potatoes and poblano peppers for dinner.
Creative – audio and art (https://www.audible.com)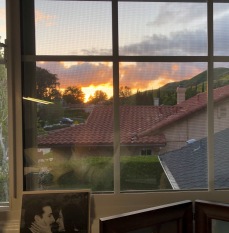 Gratitudes:
1 – I am grateful for time and inspiration to do art
2 – I am grateful for rose petals and their wondrous scent in a bath tub
3 – I am grateful for time away from a computer screen today.
4 – I am grateful for online grocery orders that magically appear on your doorstep…eventually.
5 – I am grateful for everyone out there in this world who is putting positive, affirming, loving materials out there right now.
Categories: None
/