Shopping Cart
Your Cart is Empty
There was an error with PayPal
Click here to try again
Thank you for your business!
You should be receiving an order confirmation from Paypal shortly.
Exit Shopping Cart
Lesley Youngblood
Granola girl, Earth Mama, Crazy Cat Lady, Dragon Whisperer
 Woke up to a cat snuggled in my arms. You just can't get up when she's like that. So I stayed put until 9 when she finally stirred herself and let me up. Cats rule.
Once I'm freed, I get the day rolling with some tapping and a tizzy. I've gotten into a habit during all of this health scare of alternating between a Loving Kindness meditation and the Love, Peace, and Light tapping in the mornings. It's a helpless feeling to be stuck at home while others are out saving the world, and these meditations make me feel like I'm at least putting some good healing and love out there to all those who are working or fighting off this virus or recovering from this crisis. It also helps me keep me grounded and positive, and I think that's a big part of the battle for those of us in quarantine.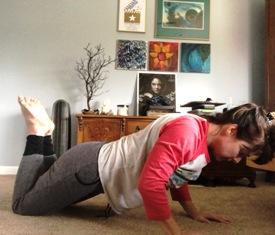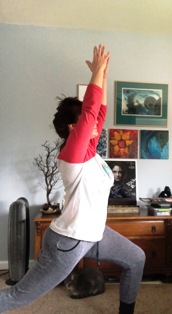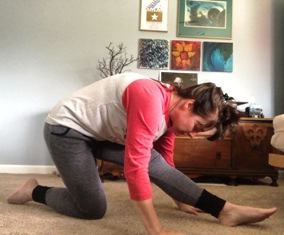 Yoga is fun today, and I add a little 5 minute mindful meditation at the end. And since I'm all motivated, but relaxed, I gather the screenplay we're working on for story analysis in class (this week it's Good Will Hunting) and start trying to break it down. I'm doing great until about step 5 (Crossing the Threshold) when I start to lose myself in the script again and forget to focus on the key elements. By the time I get to Step 7 (the inmost cave) I'm at a loss about where that comes in, and I start getting frustrated. I know the beauty of art is that it doesn't always follow the rules, but it seems like there should be a fairly obvious answer for only 12 steps of story. Either I'm not getting something, or this isn't as straightforward as it seems.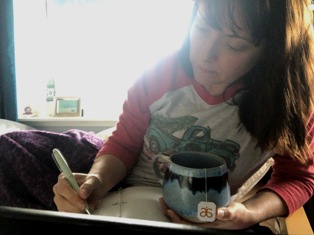 At 11, while the light is at its best in our kitchen, I set aside homework and get ready to shoot another baking video. Today, I'm trying out a Protein Powder Cinnamon Roll recipe. This one is a little longer, with more steps than my previous videos, but I'm really craving cinnamon rolls, so I gotta go for it. Everything goes well until it's time to roll the rolls. And the dough just cracks into a fold, then another, then another. Maybe I should call these San Andreas rolls, or the cinnamon fault line bars, or something clever. At the moment, the only thing that comes out is Cinnamon Foldy Bars. Yeah. Brilliant.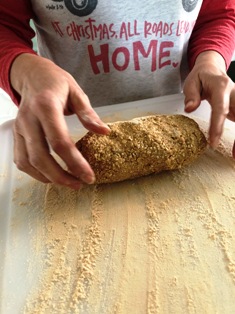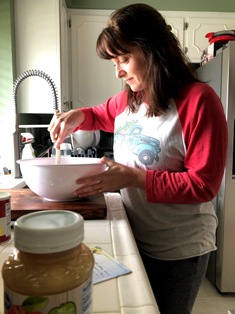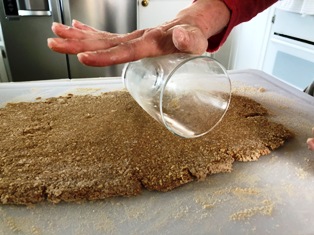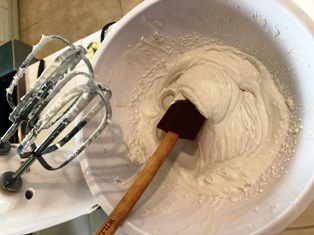 I finish the video anyway because, although they may look like a natural disaster, they taste amazing. So, they're more like chewy granola than a roll – who cares? Pop them in a toaster over for a minute and they're gooey and sweet and perfectly tasty. I also think it's as fun to share failures on video as it is to share successes, and these ARE edible, unlike the cookies I attempted last week (which I finished off BTW). So, along with a little self-deprecating humor and my trademark goofy faces, a cooking video gets posted in time for acting class.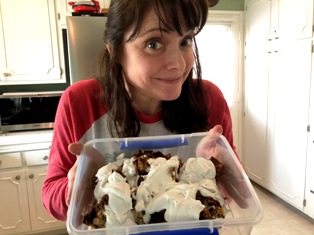 Class is exceptional tonight. The beginning visualization exercise is inspired, and so far off the normal acting class reservation that it reminds me of exactly why it is I love this class so much. My monologue from The People goes pretty well – it's a really weird sensation to video chat with yourself during a performance. It strikes me that rehearsing in front of a mirror might be helpful for this particular format. And I have a nice breakthrough about integrating the environment I'm actually sitting in with the environment of the story to bring even more realism and truth to a performance.




As class wraps up, the hubby braves the world outside to pick up from our local Chinese restaurant. There's only one staff in the place, safely adorned with mask and gloves, and they send him home with a bag of yumminess for consumption. I pass on everything but the wonton soup since it's still later than I like to eat. The warm, savory broth is all I really want of it, but it hits the spot and fills me up.




Family chat time ensues, then the hubby and I head upstairs for an episode of Outlander, some tapping, and lights out on another great Sunday.

 




The Daily Deets:




Exercise – Yoga with Adrienne (https://www.youtube.com/watch?v=oBu-pQG6sTY),

Meditation – Love, Peace, and Light, and Evening Stress Relief (https://www.thetappingsolution.com), Mindful meditation (https://www.oakmeditation.com)

Healthy Meal – Wor Wonton Soup, Sort of cinnamon rolls

Creative – new cooking video (https://youtu.be/3Y34wyTKM9s), Crash Class (https://www.crashacting.com)

 

 

Gratitudes:

 

1 – I am grateful for all of my fellow actors in class, for our teacher and his wisdom, and for the Zoom that brings us all together right now.

2 – I am grateful for inspiration and a willingness to let go of the perfect outcome in my cooking.

3 – I am grateful for the hubby and his willingness to lend his talents and help me shoot these silly videos.

4 – I am grateful for writers whose work inspires thought and emotion and takes us on a journey.

5 – I am grateful for another wonderful week, with all of my family healthy and safe.

 




Thirteen weeks, y'all! That's crazy. And I am grateful for every day of this journey, and for each of you reading this. 




Here's how the week went:




6 healthy meals and 7 shakes

5 workouts and 4 walks and one bike ride

8 meditations, 7 times through my vision board, and 6 tapping meditations

And 35 gratitudes for the week.

 




My Personal Progress Report:




Job – ya know - quarantine. Just working on ways to be of service to others at this point – fundraising, making masks and care kits.




Acting and creativity – Great! I did a monologue in class, worked on that several times during the week, along with homework. I played my guitar, only once, but it happened. Created a VO script and recorded it, and made a cooking video for YouTube.




Healthy body – Meh. A little frustrated here. I'm sticking with mostly great eating, but results are backsliding this week. Weight is up three pounds (gasp!) and measurements are exactly the same.




Over all sense of wellbeing and fulfillment with life – Good. I find the more I stick to my morning routine, the better my entire day goes. When I veer off, I get testy and defeated and just kind of give up. So, there's a lesson there, I guess.




Week Fourteen, coming up!

 

 




Categories: None

0

/