Shopping Cart
Your Cart is Empty
There was an error with PayPal
Click here to try again
Thank you for your business!
You should be receiving an order confirmation from Paypal shortly.
Exit Shopping Cart
Lesley Youngblood
Granola girl, Earth Mama, Crazy Cat Lady, Dragon Whisperer
I think today is Friday. The days are beginning to run together a little bit here, but I'm pretty sure it's Friday. TGIF just doesn't really have the same impact right now does it?
I allowed myself to sleep in a bit - not past 10, but long enough that the rest of the house was awake before me. And already buzzing – I'm summoned, pre-tea, to help deal with the agenda du jour: our refi guys needing more documents. I'm not sure what the rush is in the current climate, but everyone seems to be in a rush to get an appraisal done and disclosures signed and credit report pulled and the like. It's really only an hour's work, but it irks me having to jump right in before I've had my morning. I suppose that's what happens when you sleep in.
Once that's done and sent, I actually get to wash my face and brush my teeth.
While I finish my ablutions, the hubby has video doctor visit. He uses my office because it's already pretty well set up for self tapes and video conference calls - a nice neutral backdrop and tripod and such. And there's a door he can shut for privacy. Except for the cats, of course. Sybilla hates closed doors. The visit goes well, and doc thinks she may have figured out a reasonable diagnosis for what ails him. Pretty darn cool what video technology can do! I suspect there will be a substantial increase in video doctor visits even after this pandemic scare has ended. It's just plain more sanitary.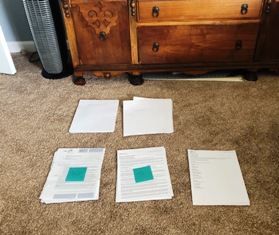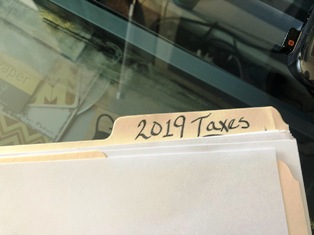 I reclaim my office and tackle my yoga and meditation before starting on taxes. Ah, yes. The joy of tax season. Even with an extension to the deadline, I can feel It looming and I'd just as soon get the info pulled together and submitted to our accountant (aka my mom) as let it sit for several weeks. And there is a certain feeling of accomplishment and satisfaction when all the numbers have been pulled and the reports filled in and saved…saved…saved?... holy @#)(@Ujdf! Where did my file go?? Straight into the ether it seems. Hours of work, gone without a trace. We try all the tricks I can think of – and all the advice of tech friends we have at our disposal - to recover the previous versions of a file that now appears on my screen absolutely blank.
I'm deflated. Okay, yeah, that's putting it mildly. Tap, tap, tap! I do a nice little boost of happiness and get started rebuilding the entire file from scratch. I always try to tell myself that it'll end up better the second time around. That's baloney because these are numbers and not creative writing, but it makes me feel better that I found one additional receipt that didn't get factored into the first expense report. It's for $20 bucks, but I'm taking the win and keeping my attitude straight.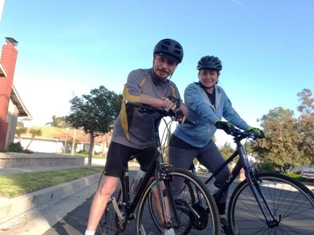 To enforce that, the hubby and I go for a bike ride. Nothing on the planet better for lifting spirits and quelling a temper than fresh air and time with someone you love. I'm armed with my fizzy drink and determination. Today, we explore a few new routes – a nearby school, a new street or two, a surprise steep hill that kicks our butts. I'm pleasantly surprised to see so many friendly faces and greetings out there. I guess now that folks aren't constantly focused on work or their cell phones, they are finding time to smile and wave at the neighbors again. It's very Beaver Cleaver, and I can't help but wonder if this pandemic may have some exceptionally good effects in the long run? I haven't seen so many people slow down, take a breath, and actually interact with human beings in a long time.
Our legs aching and butts numb, we head back to the house for a shower and some dinner with mom-in-law. Tonight's masterpiece is a tabbouli, chickpea, and roasted veggies bowl. We zhuzh it a bit with tandoori ground turkey and a little egg, and settle in for a family movie night.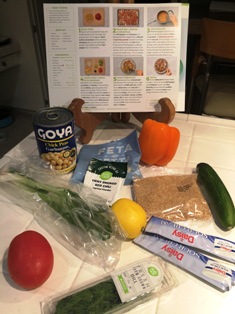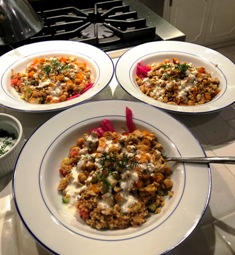 We had hoped to watch Little Women or Emma, but they still have rental fees in the double digits, so we pass. Instead, the hubby and I introduce mom-in-law to the wonderful world of Le Mans by watching Ford vs Ferrari. It's just as brilliant the third time around.
Ah, Friday. You had your ups and your downs, but I'm glad to have been around to participate in it all.
The Daily Deets:
Exercise – A bike ride in the sunshine
Meditation – From Stress to Productivity and Extra Boost of happiness (https://www.thetappingsolution.com), Loving Kindness meditation (https://www.oakmeditation.com)
Healthy Meal – Cinnamon Roll shake and a Green Apple Tizzy. Ooooo. Ahhhhh. (https://www.arbonne.com/pws/lesleydonne/tabs/home.aspx), Chickpea and tabbouli bowl with roasted veggies and ground turkey.
Creative – Read new script for class work on Sunday, imagination work on monologue
Gratitudes:
1 – I am grateful for friendly greetings and smiles around our neighborhood.
2 – I am grateful to be doing something to contribute these days, however small my contribution may be.
3 – I am so grateful that my part of the taxes are done. Just the hubby's reports to do next week and we'll check that task off the list for another year.
4 – I am grateful for a new script to analyze for class.
5 – I am grateful for bikes, and fresh air, and that I didn't punch my computer today.
Categories: None
/