Shopping Cart
Your Cart is Empty
There was an error with PayPal
Click here to try again
Thank you for your business!
You should be receiving an order confirmation from Paypal shortly.
Exit Shopping Cart
Lesley Youngblood
Granola girl, Earth Mama, Crazy Cat Lady, Dragon Whisperer
"Oh what a beautiful morning." And it is. It really is. Sunny and clear, with flowers blooming like crazy. The yard is a buzz with bees hovering around rosebuds and ice plant and sage. The rainy days of the past few weeks, have given way to golden sunshine, and the reward is a panoply of purples and pinks and whites. I feel like walking out among it all.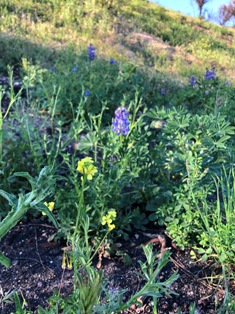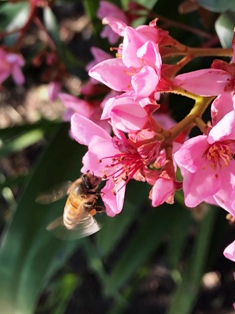 I'm back home in time to make a hot tizzy and log on for my online digital marketing class. This week is chock full of statistics and great info. It's a lot to take in and process in one hour, but I'm already beginning to formulate a more comprehensive marketing plan.
It's a little later than usual, but yoga is really fun today. If you've never really done yoga and want a great slow intro that really shows you each move in detail, this Yoga with Adrienne course is perfect. I stumbled across it on YouTube just looking for something different from my normal routines (and to supplement my workout with the hubby without killing myself in the process). I have no idea who Adrienne is or how well reviewed the videos are – so if you're into those kinds of details you'd have to do your homework – but I really like her slow flow style. A great beginner primmer.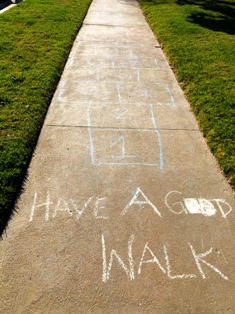 I take a little while after yoga to catch up on some long-neglected emails, chat with a friend or two just to hear their lovely voices and make sure they are doing well, and send a few messages out. Then I jump over to Natalie Ledwell's video on Facebook for some extra inspiration. She gives great pointers on how to stay positive and even a few activities to keep your focus on happy and healthy thoughts in the midst of this mayhem.
And I am inspired by the time the video ends. I write out an idea for some videos to make detailing out the Arbonne 30 Day program. I have emails, but sometimes a visual is easier – and certainly more entertaining – to follow. Not sure yet if this will be 3 separate videos, or just one comprehensive one, but I have the outline and broad-strokes script finished in about an hour.
I spend a lot of time face to face with a screen today, more than I normally like to. Digital seems to v=be the center of the universe, but today is also overshadowed by a search for something essential that has been lost – my hubby's phone. He's searched high and low but can't seem to locate it. Of course, the ringer is turned off, so I can't simply call it and solve the problem. There is some concern that he left if at the market two days ago, which means another trip outside into no man's land. If there's a silver lining to this lockdown it's that there are only a very few places it could be if not here at home.
Frustration mounts as the search goes on. I need to disengage a bit from the surging negativity, so I make myself a Dandy Blend and vanilla latte, and go up to my sanctuary and listen to a 15 minute recharge meditation. Eyes closed, I realize they are still buzzing from so much screen time. Time to get away from the digital world for a bit.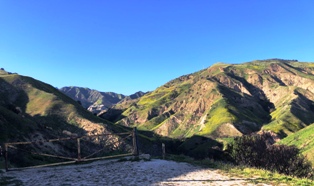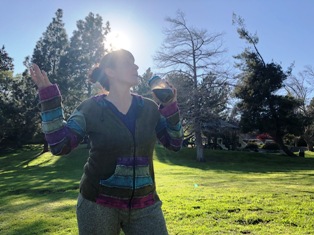 The hubby and I take a stroll out and about, gathering up vitamin D and breathing fresh air. For half an hour, our focus is not on computers or lost phones or emails or work…just Mother Earth. I can't bear the thought of diving back in when we get home, so I opt for a real life paperback book instead. I get a solid hour of reading time in before we splurge on ribs and coleslaw from a local barbecue for dinner. I honestly can't remember the last time I ate ribs – best recollection is when our family owned a bbq in Carrollton, well before I moved here to California. That would be some 20 years ago then. Not sure delivery ribs are a fair estimation of the quality of a bbq restaurant – in all fairness, they need to be piping hot off the smoker to be at their best – but I enjoyed the rare splurge. And the sauce. The sauce was good.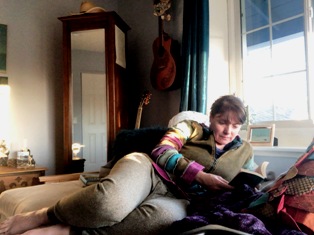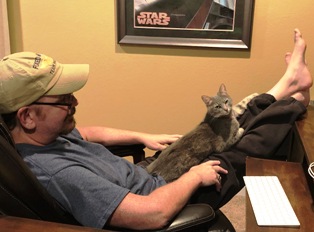 The Daily Deets:
Exercise - Yoga with Adrienne (https://www.youtube.com/watch?v=oBu-pQG6sTY), morning walk, afternoon walk with the hubs.
Meditation - Reprogramming your thoughts during difficult times by Natalie Ledwell (https://www.facebook.com/mindmovies/videos/2316375445321551/) 15 Minute Recharge (https://www.brainhacker.net), Body scan with Steve Hoskinson (https://youtu.be/ntW6yoJzG8A ) before bed.
Healthy Meal – Triple Berry Vitamin C Boost shake. Drunk in the sunshine to boost Vitamin D at the same time! That's pretty much the only healthy food intake for the day. Seriously.
Creative – script plotted and written for video series for Arbonne clients, reading.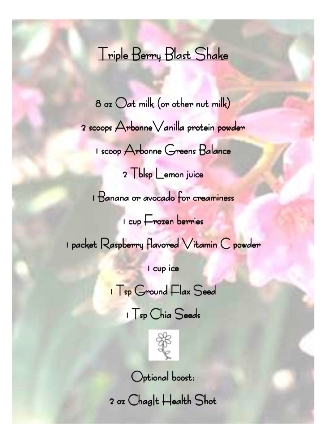 Gratitudes:
1 – I am grateful for two beautiful, freeing walks today. I enjoyed the companionship of one as much as I loved the solitude of the other.
2 – I am grateful for rare treats that can be enjoyed without guilt.
3 – I am grateful for inspiration for new scripts, new projects, new recipes, new writing, and new music
4 – I am grateful for bees. So nice to see them and their handiwork outside these days.
5 – I am thankful for the sound of friendly voices at the other end of a phone signal.
Categories: None
/